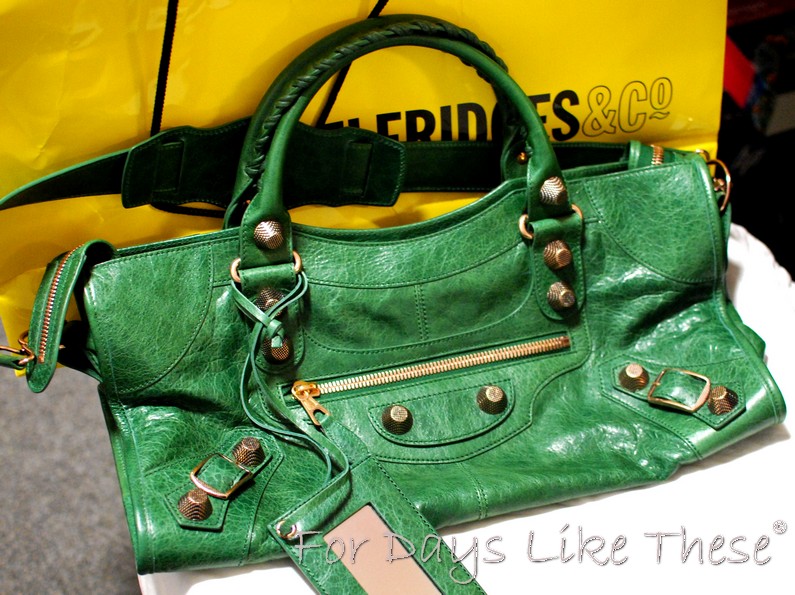 I never knew Balenciaga existed until the girl appeared.
She carried this bright Fuchsia coloured bag with silver thimble like hardware which was studded on the bag. I secretly think, "Thimble bag!"
The girl has since introduced me much to the house of Balenciaga. But I still think the giant hardware on the Balenciaga look like thimbles.
So friend was in London and was on a much crazy shopping spree. Balenciaga had just launched their new palette of colours for their fall/winter 2010 bags just at that same time. It was a chance not to be missed.
The girl's choices of colours were Blue Roi or Anthracite. Mine, Cypress.
After much, "I don't know, we don't know, you don't know", we went with the Cypress part-time with rose gold giant hardware. And of course it is the best choice since green is the most happening colour this season.
But deciding isn't always the ultimate decision to buying the bag because Balenciaga sold that last Cypress part-time without informing my friend despite her putting a reservation on it.
We did think that was it. No more. Finished. Well, until she emailed us with much excitement pictures of the bag she had found at Selfridges.
So this is it. We love it. And it is so gorgeous, shopping frenzied friend bought one in the same colour for her iPhone, a tiny little Balenciaga jacket for the phone in Cypress.